In September 2022, Australian rugby sevens star Charlotte Caslick joined a visit to the northeast region of South Africa to visit a partnership and meet with coaches and players who had earlier in the year completed the Reconnect South Africa integrated rugby and life skills curriculum. This was after a successful Rugby World Cup Sevens 2022 held in Cape Town, South Africa, of which ChildFund Rugby was the Principal Charity. 
Charlotte Caslick is a multi-champion-winning member of the Australian women's sevens team. She has won the World Sevens Series three times, was an Olympic Gold medallist in 2016, and claimed the Commonwealth gold in 2022. In Cape Town, she added the Rugby World Cup Sevens title to her impressive collection and 72 hours later was graciously heading off to meet a ChildFund Rugby partner as a ChildFund Rugby supporter. It wasn't her first time visiting the child rights organisation's partners, as she previously visited Laos in 2018.
As Charlotte departed to the province from Cape Town – post RWC Sevens celebrations – she told her huge social media audience "I'm heading up to see what ChildFund Rugby's partner in South Africa is doing to impact children and young people through rugby. Look forward to reporting back".
The visit meant a lot for Charlotte, it was a time to give back to the game she loves. Joining her on the trip was former South African 7s and 15s women's captain Mandisa Williams (more information to come on that later!).
"We are meeting coaches who have completed the process of teaching kids through the Rugby Reconnect curriculum and then we are off to see a tournament in the afternoon. If anything is to go by, then I'm expecting a lot of good energy and for the kids to have a really fun time," said Charlotte as they headed to Limpopo.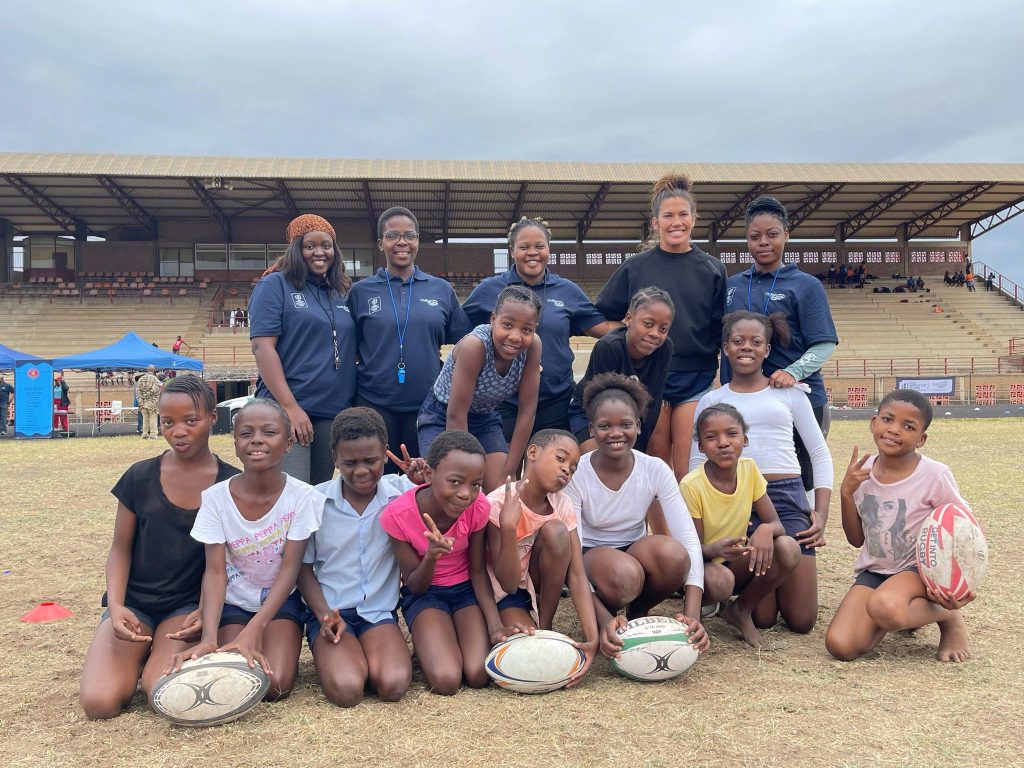 Upon arrival, eight coaches spoke to the visitors about the values of their learning and what challenges they have overcome while highlighting the positive impact the partnership has had on them and the children they coached in rugby and life skills.
Following the coach session, Charlotte said "meeting and hearing the coaches and hearing their experiences and what a big role they play in these children's lives is incredible. I think the impact they will have on them (children) in the long-term is quite remarkable".
After helping the coaches prepare for some sessions with children who had never played rugby, she added, "I think this rugby and life skills learning is incredibly important. What these young girls and boys can learn off the field from basic skills in rugby and being part of a team and having that sense of community around you is important for people's lives. Just being healthy, young, and having fun together is so important for kids growing up."
In the afternoon, Charlotte and Mandisa were guests at a Tag Rugby Tournament held with Bulls Rugby at the Nkowankowa Stadium in Greater Tzaneen. The competition saw eight teams (four each from U11 and U13) compete. Aside from supporting the players and coaches, Charlotte and Mandisa signed autographs and handed out the winning trophies and medals to teams.
Charlotte noted the importance of girls' participation, "I think the number of girls here is nearly as high as Laos' (52%). ChildFund Rugby's partnerships have done a great job at closing that barrier and giving everyone an equal opportunity to have a go at playing rugby and learning key life skills."
On her overall experience, Charlotte said, "I started playing because I love this game and experiences like this visit to Limpopo reunite me with those passions for the game. I love coming to different parts of the world and being able to share my love for rugby with kids or anyone who also loves the game. I think I have always had a passion for grassroots rugby – I feel lucky that ChildFund Rugby gave me the opportunity to come here straight after the successful Rugby World Cup Sevens tournament."