"It's pretty crazy how two people from different countries, different generations, different in personality types can come together for the single purpose and pull off something incredible."

(Ron Rutland)
Two years ago on September 19th, Ron Rutland and James Owens cycled their way to the Tokyo Stadium. It was a day before the Opening Ceremony of Rugby World Cup 2019™, and they carried with them the match whistle that will be used for the opening game. Behind them was over 230 days of pedalling across Europe and Asia.
The cyclists kicked off the epic DHL Race to Rugby World Cup back in February 2019, cycling all the way from London to Tokyo to raise funds for ChildFund Rugby, the Principal Charity Partner of Rugby World Cup 2019™ in Japan. Through the epic race, James and Ron helped raise over €123,696 for children from vulnerable communities in Asia.
Two strangers, one shared purpose, eight months, 27 countries, 20,901 kilometres: many stories have been told, many great memories have been shared, many unforgettable moments have been tweeted and retweeted. What else haven't we heard about? And where are they now, the daring cyclists, two years after hitting the finish line?
We chatted with them in a special interview to find out more!
What do you miss the most from the trip?
Ron: I have very much missed being on the journey – the freedom of the open road, meeting new and interesting people every day, seeing things every day that I have never seen before – those things excite and motivate me. It's completely opposite the COVID world we live in now. I also miss having a really big goal, and to be working towards something meaningful with all my focus and attention.
James: I do miss the simplicity of life when travelling by bicycle. This simple existence built on human connection across diverse cultures brings with it a sense of freedom and creates space for self reflection that can often be difficult to find in a fast-paced city environment.
Can you tell us about one of the best memories you had from your trip?
James: My best memories from across DHL Race to Rugby World Cup are all tied into positive human connections. Across our adventure, at our times of vulnerability, we witnessed the best in people. People continuously opened the doors to their places of worship, homes and schools to provide us with shelter, food and warmth. It was the people across our journey that really made the trip special and nobody was more central to the trip than the ChildFund Rugby Coaches who came out to join us on the bikes in Laos and Vietnam! Having a sense of purpose is an important part of any adventure and my connection to ChildFund Rugby and the people on the ground who make the difference provided a lot of this drive for me. If I had to choose one memory that stands out, sharing the journey with the ChildFund Rugby Coaches and reconnecting with them after months on the road was a real highlight!
Ron: Meeting the ChildFund Rugby teams in Laos and Vietnam!! I honestly mean it – I have never in my life seen James so happy, and it reinforced to me just how important the program is, and filled me with such joy meeting the most amazing human beings. Lifelong memories from that time.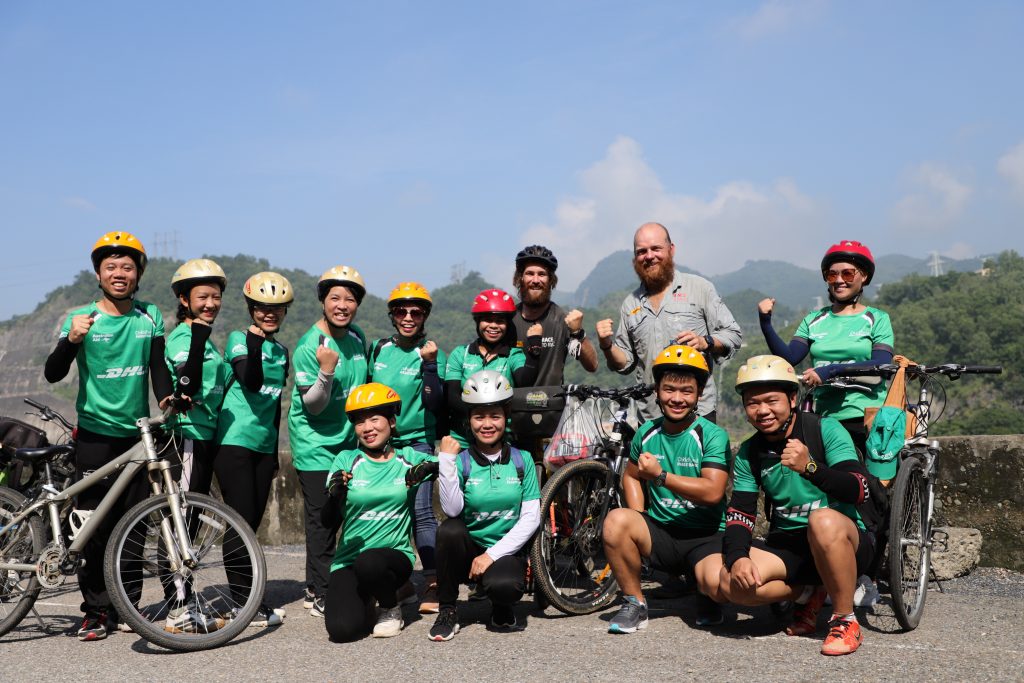 James and Ron with Coaches in Vietnam.
Can you tell us about the toughest challenge of the trip?
James: There are bound to be plenty of physical, mental and logistical challenges on a trip of this intensity and duration but we saved the toughest challenge for the last month of the trip with a major dip in Ron's health threatening to derail DHL Race to Rugby World Cup close to the finish line! With Ron battling a serious illness, the last few weeks of the trip became a test of Ron's mental toughness and the strength of our team dynamic as he worked to recover, while also slowly creeping towards Tokyo on our bikes. The fact we made it to Tokyo on time is testament to Ron's mental strength!
Anything you learned about yourself during the epic cycling trip?
Ron: I learned from James that I need to be more relaxed about plans! I try hard nowadays to laugh at problems more than to scream at them – that was a big learning. I also learnt that we are all capable of so much more than we think – this was a massively ambitious project on every level, and we pulled it off!
James: I genuinely believe that adventure and travel can provide one of the best platforms to develop greater self-awareness and social-awareness if you have a clear sense of purpose. DHL Race to Rugby World Cup certainly challenged me to understand myself better and provided new perspectives around how to more effectively engage with people around me.
What did you do the first day after reaching the finish line?
James: We were fortunate to be surrounded by family, friends and ChildFund Rugby staff and Coaches when we arrived into Tokyo in the midst of the opening of the 2019 Rugby World Cup! The juxtaposition between the meditative life on a bicycle and the overwhelming excitement of jumping straight into watching the first Rugby World Cup ever to be held in Asia made for an interesting first day off the bike.
Ron: I drank beer and watched rugby – two of my favourite things when I am not on my bike!
What are the things that's keeping you busy since the epic cycling trip ended? Can you share a bit about where you are now and what your future plan looks like?
Ron: I have spent most of my time in the last two years planning a ride to the 2023 RWC in France. I tried to put together a few smaller projects here in Africa, but nothing has come off because of COVID. I am putting all my eggs into a new big 2023 project – watch this space!
I am now living in Nottingham Road – it's a quiet rural town in the province of KwaZulu-Natal, South Africa. This is where I was born and brought up, but I haven't lived here since 1996, so it really feels like I have 'come home.' I have spent some time volunteering on various disaster relief programs caused by COVID – this has been some very meaningful and eye-opening work.
James: I have remained engaged in the Sport for Development space since finishing DHL Race to Rugby World Cup and have been enjoying supporting with the design and implementation of projects at Hong Kong Rugby Union that aim to use sport as a vehicle to deliver important life skills to children in Hong Kong. I have been enjoying utilising my skillset to support with community development in my hometown, particularly during these challenging times. Through this role, I have also continued to work in partnership with ChildFund Rugby and remain a passionate advocate to the work that they do around Asia.
The Rugby World Cup 2021 is approaching, this 2022 in New Zealand. And ChildFund once again has been appointed to be the Principal Charity Partner of the tournament. What do you think about it? Do you have a plan to come watch the games?
Ron: I think it's absolutely brilliant that ChildFund Rugby are the Principal Charity Partner of the tournament – after the success of 2019, and the fact that NZ is in CF's 'home ground' region of the world, it makes so much sense. I really hope it's a fantastic success for ChildFund Rugby, and that it builds on the legacy and efforts of Japan 2019. Sadly I don't think I will be able to be in New Zealand for the event, the timing sadly isn't very good for me!
James: Excitement is building for the Rugby World Cup 2021 in New Zealand and I will certainly be keeping a close eye on the event. Given ChildFund Rugby's strong commitment to equitably grow the game and provide life skills learning opportunities for children and youth across Asia and the Pacific, I cannot think of anyone better placed to leverage the event to create a positive legacy.
The world has been facing unprecedented challenges and uncertainty due to the COVID-19 outbreak. What do you think about ChildFund Rugby's rolling out of Reconnect, that provide children and young people to continue to have access to safe life skills through rugby learning, as part of your legacy and that from the RWC2019?
James: The COVID-19 pandemic has had significant consequences on children and young people across the world. The uncertainty surrounding the current social and economic climate is exposing young people to a divisive environment with new risks and increased levels of anxiety, reduced access to support networks and reduced opportunities for stress regulation. Sport for Development has the ability to provide a safe and inclusive educational environment for young people to be equipped with knowledge, attitudes, and skills for them to better cope with this change. Access to important sports and learning opportunities such as ChildFund Rugby's Reconnect is a powerful way to promote social connectedness and support the positive mental and physical wellbeing of young people.
DHL Race to Rugby World Cup was built around the philosophy that the world is more connected than we realise. We were fortunate to experience the best of humanity across our journey and embrace the power of these social connections. It makes me proud that a legacy of our trip and the 2019 Rugby World Cup has been to support ChildFund Rugby's Reconnect to promote positive social connections within communities that provided us with so much.
* DHL was a proud partner with ChildFund Rugby and also supported Ron and James throughout their journey.
* Everything in Between, the documentary featuring the duo's adventure was premiered in early 2021. Visit their website to learn more. 
---
Photography: ChildFund, DHL
Interview by Linh Truong, Communications & Content Officer.