Chan Lor has been a coach with ChildFund Pass It Back in Laos for over two years. Not only has it given him a new sporting passion in life – rugby – but it has equipped him with important and valuable skills which are already changing his life for the better. This is his story.
"I have learned a lot from the curriculum, and I make sure I apply what I learn. For example, when my parents have an argument or we don't understand each other within the family, I use listening skills and pick up the important points to help everyone understand the issue. In this way we can avoid it escalating into a bigger issue.
"I have also noticed that my life has changed for the better. I use my life skills experiences when I train my teams, and when the players have problems, when they argue with each other, I can help them to understand each other".
For Chan Lor, leadership skills are also important. "Leadership skills can be used to help people respect one another and promote solidarity in the community."
Community knowledge
Chan Lor has also gained practical knowledge through ChildFund Pass It Back, which supports his work as a coach, and makes him a valuable member of his local community.
"We have also learned to use first aid skills to help our players when they get hurt during sessions or competitions. For example, we can clean and dress the cuts.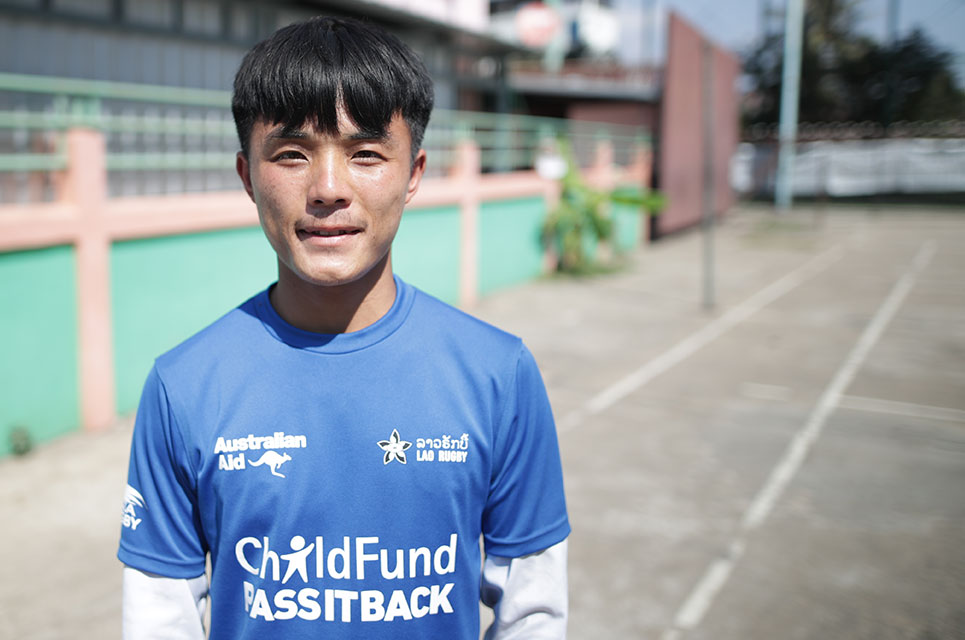 Chan Lor says: "Being a leader and working to support children's development in the community go hand in hand."
"We would like every player to be safe when they come to train and play rugby with us so when they go back home their parents are happy and continue to trust us.
"I also use my first aid skills to help people in my community when they get into an accident.
"Many people tell me how happy they are when they receive some help from me for their injuries from working in the rice fields."
Family support
Previously, Chan Lor could only support his parents by working alongside them in the rice fields; he was never able to provide financial support.
Now, the stipend he receives as a coach means he can help to pay for household basics, such as soap, petrol, or a contribution towards electricity bills.
For his parents, witnessing this new responsibility is their son, and the positive example he sets to others, has been a proud moment.
His mother says: "He has changed so much. He still helps us with the farming, but then he leaves to go train his teams. It is impressive that he can manage both.
"He is also very respectful of all his players, and he is respected in our community in kind."
For Chan Lor, his role as a coach through ChildFund Pass It Back has given him a wealth of knowledge and skills, including the rugby values: "My players can use these they are at home, school, or with their friends to help them be good people.
"I have also learned how to protect and help children develop in his community."
Planning for the future
While Chan Lor decides whether to continue his studies, having just completed his secondary schooling, his is sure of one thing: he is determined to continue being a coach, regardless of where he is located.
"I want to help children learn how to solve their problems by themselves, help their friends to solve their problems, and to make good decisions regarding their studies or how they save and spend money.
"Being a leader and working to support children's development in the community go hand in hand. Right now, the most important thing for me is that I can support children to overcome the problems they face in their lives with skills that we develop together in our sessions."