As the game of rugby union looks to increase its growth around the world, Asia is becoming an increasingly important part of the sport's future.
In 2016, 22 countries were members or associate members of Asia Rugby. While no individual Asian nation has yet to attract the player numbers of rugby heartland countries like England or South Africa, the total number of registered players across Asia is looking healthy.
In fact, they now account for more than those in Australia, New Zealand, Ireland or Wales.
These numbers, while encouraging, only begin to scratch the surface of rugby's potential in Asia. The continent is home to 61 per cent of the world's population, and more than four billion people.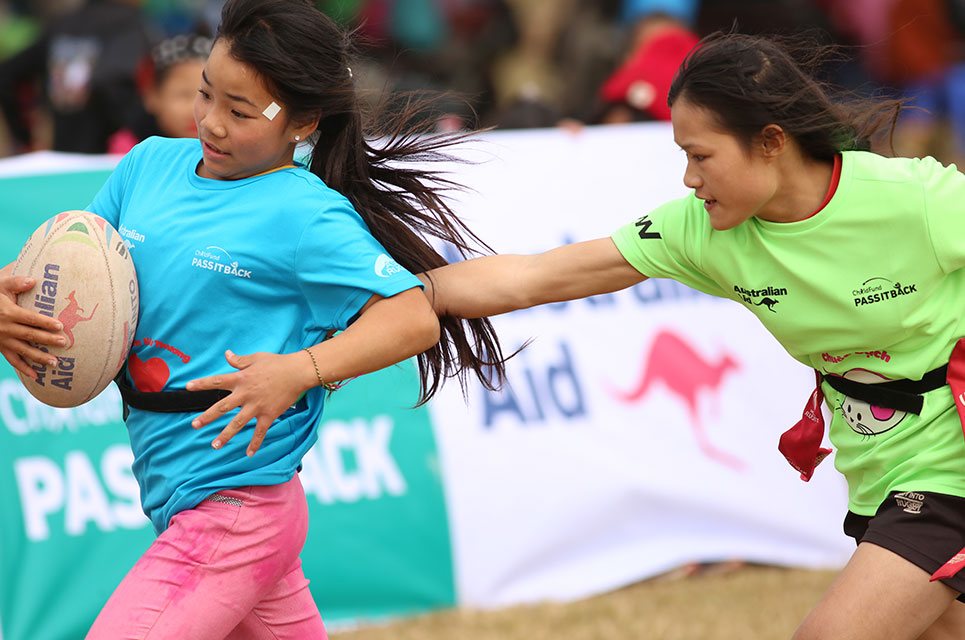 The introduction of rugby in Vietnam by ChildFund has required a few adjustments. Words like 'scrum' don't exist in Vietnamese, so the local translation of 'turtle shell' is used.
The sport's visibility in Asia is currently low, but with Japan set to host Asia's first Rugby World Cup in September, the opportunity to reach more people than ever is enormous.
Here are just a few examples of countries in Asia where rugby is blossoming.
Japan
It is no coincidence that Japan was selected as the first country in Asia to host a Rugby World Cup. The national team –the Brave Blossoms – is the most successful in Asia and has established itself as a potential breakout team in the years to come.
With a strong domestic competition which regularly draws top players from around the world, and a national team that has competed in every Rugby World Cup, Japan has established itself as one of rugby's most successful second tier nations.
The country's 34-32 upset win against the two-time world champions South African Springboks at the 2015 World Cup in England demonstrated that it may not be too long before Japan steps up to the top tier.
The Brave Blossoms went on to beat Samoa and USA in the pool stages, finishing the tournament with three wins from four outings.
Coming off its most successful World Cup performance and hosting this year's tournament, Japan's next win against a rugby union powerhouse may not come as such a surprise.
Hong Kong
While it doesn't have Japan's Rugby World Cup pedigree, Hong Kong has certainly made its mark in the rugby world thanks to its annual Hong Kong Sevens tournament.
Beginning with a dozen teams playing to 3,000 people in 1976, the event has grown to a three-day extravaganza which attracts 40 teams and the world's best players every year.
Stadium audiences in Hong Kong are now around the 120,000 mark, and the event is a key stop on the annual Rugby World Sevens Series.
The popularity of the tournament, and the longstanding tradition of rugby in Hong Kong, has seen the sport enter the mainstream. The national team, the Dragons, has consistently pushed for Rugby World Cup qualification.
In 2018 the side came close to clinching a ticket to Japan but fell to eventual qualifiers Canada in the final round of the 2019 Rugby World Cup repechage tournament.
Vietnam
The growth of rugby in Hong Kong has shown what can happen when a tournament gets a groundswell of support. One day we might be saying the same thing about Vietnam.
In 2017, the country hosted its first ever international tournament when ten teams from Vietnam and Laos travelled to the rural Kim Boi district for the second ChildFund Pass it Back Cup.
The ChildFund Pass It Back program was born in neighbouring Laos, where it's unique curriculum, integrating tag rugby and life skills learning, was first trialed to help young people in a range of areas including leadership, problem solving, gender equity, conflict resolution and planning for the future.
For ChildFund, introducing a previously unknown sport like rugby has encouraged girls to take part, as it is not traditionally seen as a 'boys' game. Today, over half of all ChildFund Pass It Back coaches and players in Vietnam and the other Asian nations where it operates are female.
The introduction of rugby in Vietnam by ChildFund has required a few adjustments. Words like 'scrum' don't exist in Vietnamese, so the local translation of 'turtle shell' is being used.
Despite these small hiccups, the game is proving popular, and ChildFund Pass It Back now has around 2,000 registered players aged 11-16 years, and more than 70 coaches, who implement the program in their local communities and act as important role models to young people.
Coaches like Nan, who says: "ChildFund Pass It Back means I get to learn a lot of things and I can then pass my knowledge to my players, so they have the skills they need for their future."