At ChildFund Pass It Back, we have an amazing group of coaches, with each one playing an active role in our monitoring and evaluation activities.
This process of assessing impact often involves a range of community interviews, with coaches taking the time to speak to players, parents, and village leaders.
For Lan, a coach in Vietnam, these conversations are one of the reasons why she loves being a coach. Here, she talks about Ly, a younger player in her team 'Sun on Fire', who has gained useful life skills through her participation in the program.
Meeting Ly's family
It was almost dark after I finished training with my team 'The Sun on Fire. I arrived at Ly's house to talk to her and her mum. I waited for her as she brought home their goats from the hill.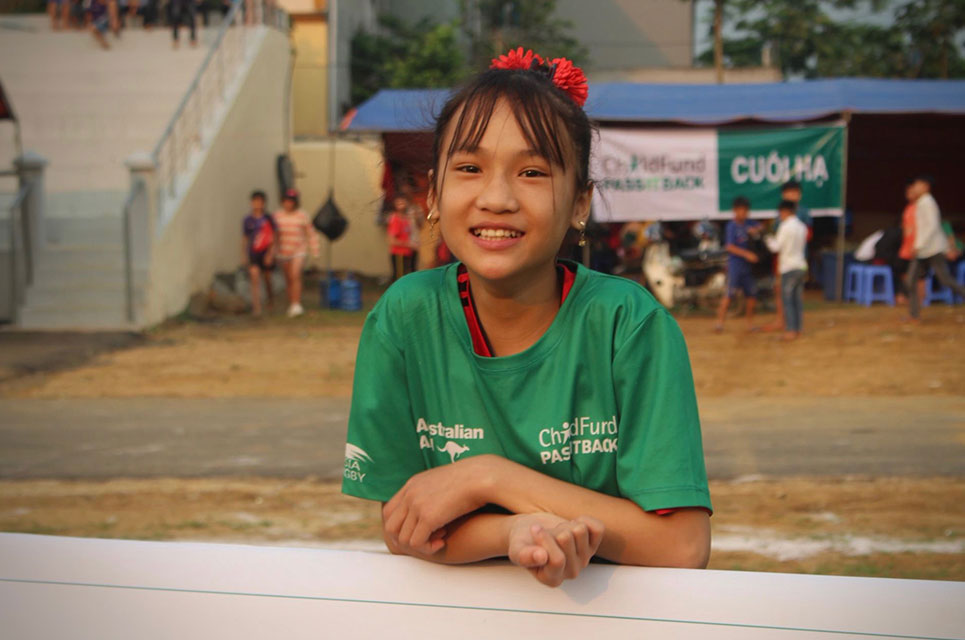 Ly, a player with ChildFund Pass It Back in Vietnam, says: "I don't want to skip any training. Even when I am tired, I can watch our team play and then I still can join the discussion."
Before our interview, I asked her for permission to take photos to provide the Project Officer with evidence of our work. She said yes, but asked me to wait for her to comb her hair. She had spent all day on the hill and just return, so needed time to tidy-up. I was sympathetic, as most of the women in our community are similar to each other.
Children learning life skills through rugby
During our conversation, I let her know that the players not only came to the pitch to learn how to play rugby, as most parents believe, but they came to learn life skills as well.
We train players to plan for their future and to save money for important goals. And as part of the Being Healthy Module, we teach our players how their bodies change as they come to puberty.
She shared with me the impact the program has had on Ly: "She has changed a lot. She saves money, not like her younger brother; he spends money on unimportant things.
"Our family has a small shop. If Ly doesn't go to school or training, she often helps me with taking care of the shop when I bring goats to the hills.
"I trust her and feel happy that my daughter has learnt lots of useful skills. I never had anyone tell me about puberty or taking care of my body."
After our interview, it made me think about how important it was that mothers understood and supported their daughter's involvement in the program.
New life skills for Ly
Ly is a small player with a big bright smile, and a member of my team 'Sun on Fire'. She is in Grade 6 and became involved in ChildFund Pass It Back two years ago, and rarely misses a session.
The other day, when she had a headache, I asked her: "Why don't you stay at home to rest?" I gave her a headache pill and asked her to drink more water and stay under the tree to rest.
Ly said to me: "I don't want to skip any training. Coming here makes me happy. Even when I am tired, I can watch our team play and then I still can join the discussion. I really want to learn, so I don't want to miss any of it."
I asked Ly: "Before this module, had anyone taught you about reproductive health?" Ly said: "Mum did. She just told me a little. She said I am just a little girl and that it was too early to tell me about such things."
I continued our conversation by asking: "How did you feel when we started learning about reproductive health?" Ly smiled at me: "Actually, I was very shy. This was the very first time that I had discussed such things with other people. Before that, I didn't know that my body would change."
I asked her how she felt now. "I no longer feel shy but comfortable when sharing with others what I have learned in the 'Being Healthy' module. Sooner or later, these changes come to everyone so there is no reason to be ashamed of discussing it."
A chance for children to play, learn and grow
For Ly, her involvement in the program is also giving her learning opportunities not otherwise available in her community.
She said: "Skills we learned from you are so helpful to us. Many of our friends who don't participate in the program don't have a chance to learn these skills. It is unfortunate and a disadvantage for them as the school doesn't teach us as much as we need to know about 'Being Healthy'.
"I think these skills and knowledge are important like math, literacy and other school subjects".
My chat with Ly and her mum made me feel very happy. I am grateful as Ly's Mum is supporting her daughter and encouraging her to participate in ChildFund Pass It Back. This means Ly can learn and apply new skills in her life.
This means a lot to us as coaches. It motivates us to work harder with our teams, so that we can help our players and give them to chance to live a better life.