Nhan is 17 years old. Around four years ago, he joined ChildFund Pass It Back as a player, when the program was introduced in Hoa Binh Province. Today he is a coach and inspiring a new generation of players in his local community.
Back in 2014, I didn't know what rugby was. I just thought it would be a fun game to play.
But when I joined the ChildFund Pass It Back program, I discovered that it is so much more than just sport.
After getting involved in the training, I realised ChildFund Pass It Back was delivering important life skills to children through rugby.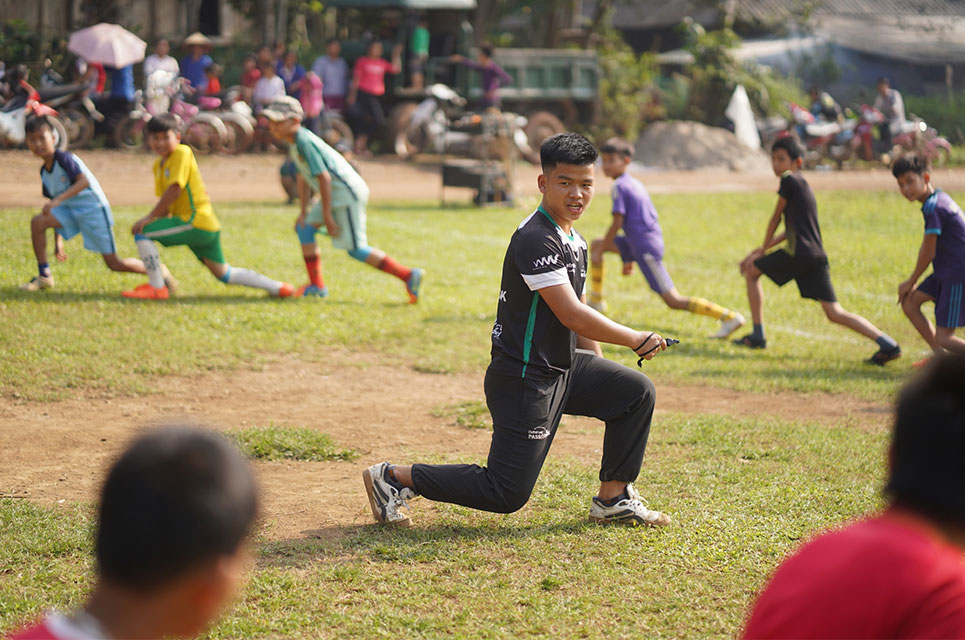 Nhan says: "ChildFund Pass It Back means I get to learn a lot of things and I can then pass my knowledge to my players, so they have the skills they need for their future. "
Rugby: a new passion for Nhan
As a new player, I was quite short and small. But despite this, when I attended the very first session, I became really passionate about this sport.
My team was called Hearts. We trained together for a year, then some of our team players had to study for high school entrance exams and couldn't continue.
We didn't have enough players, so my team fell apart. But I was determined to keep playing and learning, so I asked my coaches, Huy and Dao to let me join another team. My rugby journey continued.
Inspirational role models
Inspired by my coaches, I have always dreamed of becoming a coach myself.
My coaches do so many things for children and young people in my commune, like teaching us how to plan our expenses, how to be good role models and leaders, and how to be more confident.
Most importantly, the coaches ensure that the players have a safe space to play.
At the end of 2017, when new coaches were being recruited, I decided to go for an interview and officially became a coach after a training in January 2018. My dream had come true.
'The young grandpa': a new leader
Recently, for a district level competition, I was voted to be the leader of the administration team.
The competition was a very big event, involving all the coaches and about one thousand players from six communes. Our administration team had seven members, so we had a lot of preparation to do.
The competition lasted for two days and we had to get everything ready for the morning, the end of the day, and then our team was responsible for cleaning up everything.
I left home at four in the morning to start work and came home at seven in the evening. By doing so, when my team arrived, some of the work had already been done, and they only needed to start working on the things I assigned.
As the administration team leader, I regularly went around and checked with everyone to see if they were doing well. If not, we would try to solve the problems together.
I think if we are assigned a task and just do it to get it done, then the work will not be up to standard, which would make everything worse and put pressure on those who handle the next steps.
That is why I need to give it my all and take responsibility for my work. Everyone around me teased me and called me 'the young grandpa' but I don't mind because even though I'm young, I do my work as a grown-up!
Juggling school and rugby life
I go to school and work as a ChildFund Pass It Back coach at the same time, so I am very busy.
But I have made a schedule so that Thai, my coaching partner, and I can deliver training on days when I don't have class.
I think that whenever I do something, no matter how small it is, I must do it as best I can and fulfil my responsibilities to my team.
Passing it back to new players
I am passionate about coaching so, no matter how challenging, I will not give up my role.
ChildFund Pass It Back means I get to learn a lot of things and I can then pass my knowledge to my players, so they have the skills they need for their future.
I still remember the day when I stood before my players and could not think of a single thing to say. I just stayed silent, stammering when someone asked me a question.
But now I can comfortably talk to everyone, and I can even confidently speak up about my opinions and not worry about being judged.
I love being a ChildFund Pass It Back coach!