At 12 years old, Duoc has assumed many household responsibilities, including taking care of his younger brother.
Circumstances in developing communities can rob children of their childhood. Some are forced into the workforce, while others like Duoc must work at home in the absence of their parents.
Fortunately for Duoc, his participation in ChildFund Pass It Back has given him new skills and, importantly, the chance to be a child again.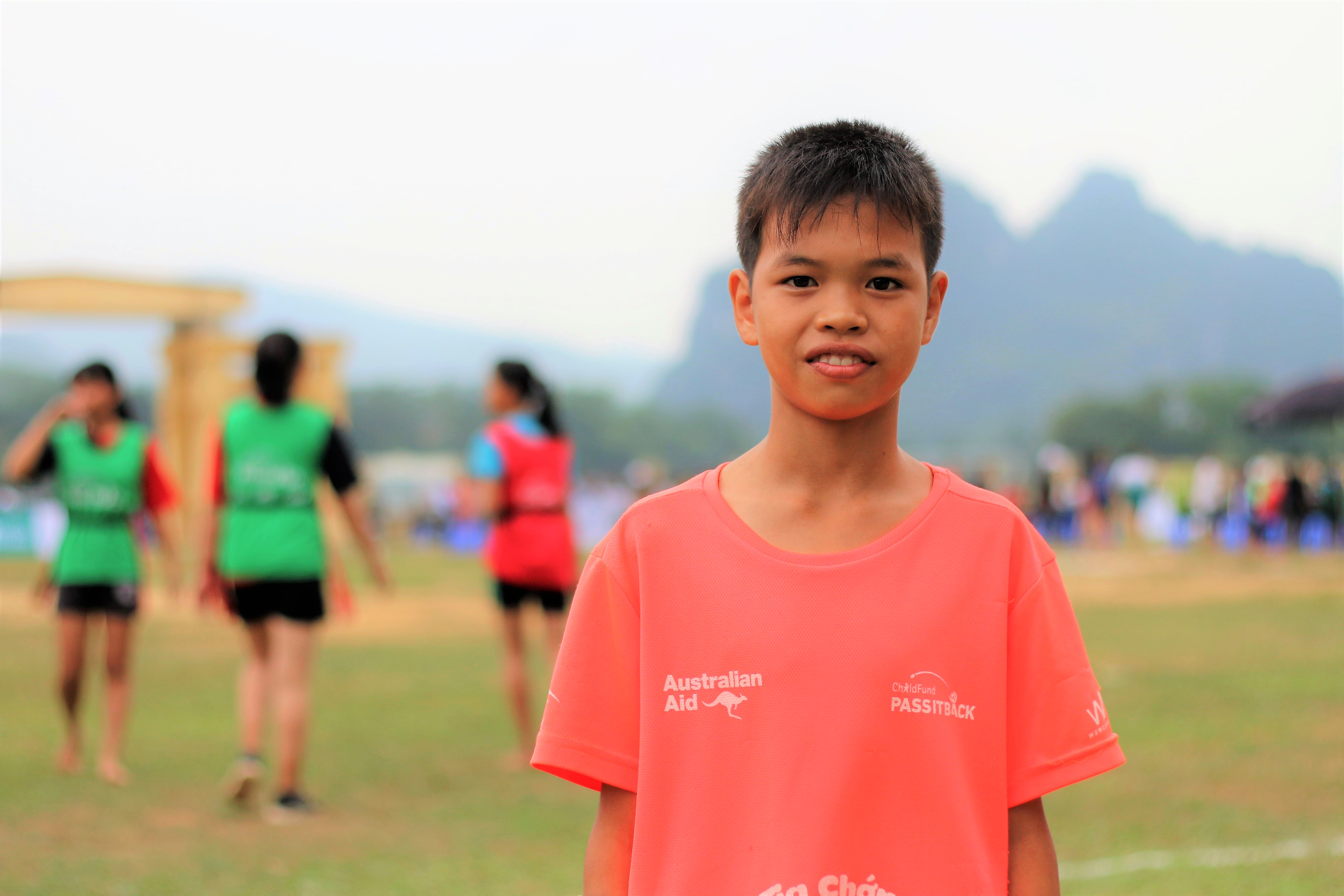 Duoc is a proud member of local rugby team 'The Flash' and has yet to missing a training session, despite his many responsibilities at home and school.
A boy in remote Vietnam
Duoc is 12 years old, and lives in northern Vietnam. Living in a remote, rural community, where living standards among local families are poor, Duoc is already shouldering a great deal of household responsibility.
With his parents often working away from the family home, Duoc is responsible for housework and taking care of his 9-year-old brother.
Every day, he wakes up early to feed the chickens, and prepares breakfast for himself and his brother. After school, Duoc visits the local shops and market to buy food to cook dinner for the two of them.
He says: "The most difficult time was when both of my parents were away from home for over three months. During that time, I had to manage to do everything on my own."
The chance to play, learn and be a child

For Duoc, ChildFund Pass It Back offers an important outlet – the chance to spend time outside the home, to play, to learn and, most importantly, to be a child. And despite a shortage of free time, Duoc has yet to miss a training session with his team, known as 'The Flash'.
A player with ChildFund Pass It Back for over a year now, Duoc is already a huge fan of the game.
He says: "I love playing rugby! I'm happy that I get to be active, run around and play with friends.
"After playing, I join the life skills discussion with my friends, which I think helps me a lot."
Duoc learns about saving and planning
During the Planning for the Future season, Duoc learnt about strategies to save money and to make plans, something he found simple yet extremely practical for his daily life.
"Sometimes when my parents were not able to send money to me in time, I would go catching crabs and frogs and sell them for grocery money. For each catch, I usually earn 88,000 VND (around $4USD) at the very most.
"Some days, when I was not so lucky, I could only earn one-third of that."
Duoc would use the money to buy groceries for himself and his brother, and occasionally some snacks as a treat. "But the rest I put in my piggy bank."
Duoc manages his time and health
The Planning for the Future curriculum also gave Duoc some ideas on how to juggle the many activities in his day, such as going to school, attending training and undertaking household chores.
"I usually go to school in the morning, practice with my team 'The Flash' in the afternoon, and then I go home to cook dinner.
"In the evening I make time to go catch frogs and crabs. If I catch a lot I'll sell them the next morning but, if not, I'll just wait a bit until I can catch more before selling them all."
A father proud of his son's growth and maturity
Duoc's father is so impressed and proud of his son.
"Every time I come home, I see him a lot more mature. He's more agile and animated, he now knows how to better manage the household chores and the spending, and to take care of himself and his brother. His health is also improved.
"I hope the program will continue to create a safe and healthy playground for children so that they are able to participate in many more activities and further improve themselves."
Duoc has yet to open his piggy bank but he already has a goal for his savings: he's hoping to have enough money to buy a new pair of boots for training with his friends!