For many young girls and women living in rural Vietnam, participation in sport is unheard of – particularly after marriage and childbirth. But Lan is breaking this mold and inspiring a new generation of girls and young women.
Lan is 22 years old and comes from a small village in Hoa Binh, a mountainous province in the north of Vietnam.
She grew up with very few opportunities to participate in social activities, which included playing sports. Her life, like those of many women in this region, revolved around the kitchen, the garden or, if any further, the paddy field.
Lan says: "We have to spend most of our days farming and doing housework, and rarely have time to go out.
"Girls are never told that they have the right to play. Sport is generally seen as something just for men and boys, not for women and girls."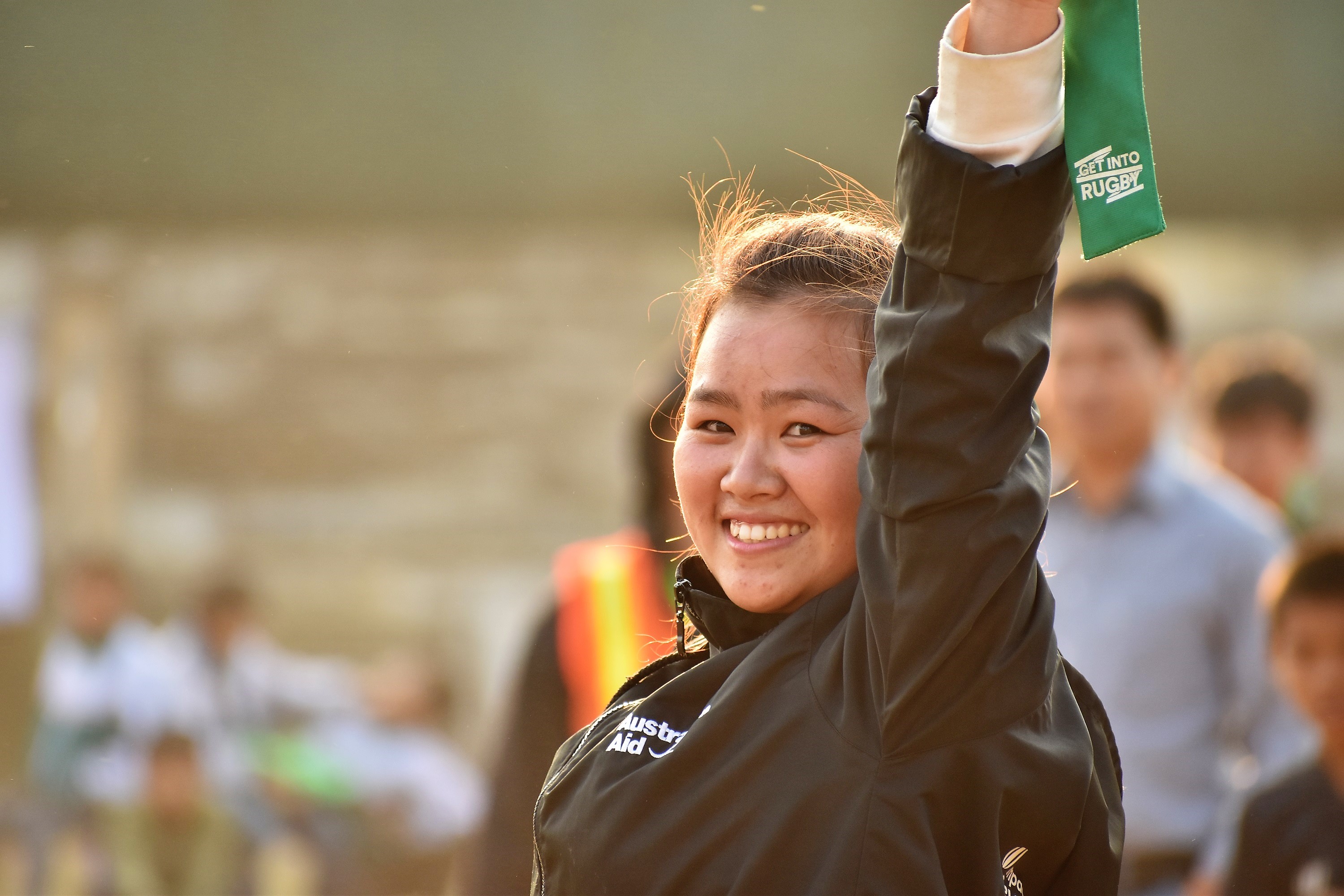 Lan's first chance to take part in organised sport was through ChildFund Pass It Back. She is now a coach and has completed her first refereeing course.
In 2015, ChildFund Pass It Back began in Vietnam – starting its first project in Lan's hometown. Always looking for an opportunity to escape the kitchen, Lan quickly signed up.
Not only was she given the chance to take part in organised sport, but also learnt about gender equality. She explains: "I learnt that women can play sport and become leaders."
Lan is now a ChildFund Pass It Back coach.
The journey of become a female rugby leader has been challenging, yet rewarding. Returning from the first coach training, Lan began recruiting players and organising training sessions.
At the beginning, people questioned their skills, others paid her very little respect. Yet she decided not to give up.
To support the coaches, ChildFund Pass It Back provides regular training to increase their skills and knowledge.
Lan was given the chance to attend the Bangkok 7s competition and a World Rugby Level 1 refereeing course.
But it was at the Asia Rugby Growing the Game Conference in 2016 in Bangkok that Lan had what she calls "once in a lifetime opportunity". Here, she delivered a speech about ChildFund Pass It Back to "a room filled with people from various rugby federations across Asia".
Lan says: "I felt proud of myself, that I had the strength to follow my passion for being a coach."
Last year, Lan became a coach group leader who, besides training players, is in charge of managing other coaches in nearby communes. At the same time, she graduated from the Teachers Training College majoring in Primary Education.
This year has been just as full of change and new beginnings for Lan. She was married this year and became a mother.
But Lan was determined this wouldn't put an end to her role as a coach.
Before the wedding, Lan spoke to her fiancé and his parents. She shared with them her passion for rugby and asked for their support so that she could continue her work after getting married.
This is something very few women in her community would even dare to think of. But Lan was determined. 
"I had that bravery because I love my job as a coach. It helps me to understand and fight for beautiful things, like how everyone should be treated equally."
And her daughter is a new motivator for Lan. She explains: "While I was pregnant I continued my role in the program, right until the day before I gave birth.
"I did this because I would like to give other women and girls the message that just because I am a married woman and I am pregnant, doesn't meant that I can't be a part of a sport for development program like ChildFund Pass It Back.
"To all the women and girls out there, please keep being involved in whatever makes you happy and makes your community a better place."