Adventure cyclists Ron Rutland and Adam Nunn have begun the New Zealand leg of their epic 16,500km cycle across 11 countries in 209 days to raise funds for ChildFund Rugby, Principal Charity of the women's Rugby World Cup.
The pair are encouraging fans to sponsor a kilometre at www.racetorugbyworldcup.com or donate NZ$3 by texting 'RUGBY' to 2474.
The adventurers departed from Tokyo on 14 March, have been engaging rugby communities along the route and will deliver the referee's whistle for the opening match of Rugby World Cup 2021 between South Africa and France in Auckland on 8 October 2022.
The Race to Rugby World Cup sees adventurers Ron Rutland and Adam Nunn undertaking an epic quest to cycle 16,500km from Tokyo to Auckland to deliver the whistle for the opening match of Rugby World Cup 2021, playing from 8 October to 12 November 2022, and raise funds for the tournament's Principal Charity, ChildFund Rugby.
The adventure, which is supported by Rugby World Cup 2021 Worldwide Partner DHL and World Rugby, kicked off on 14 March at Ajinomoto Stadium in Tokyo. The pair have been travelling through 11 nations across 209 days and arrived in New Zealand last 11 September. They will cycle most of the country from Invercargill to Whangarei before arriving at Eden Park in Auckland on 8 October, just ahead of the opening match between South Africa and France.
Fans are able to follow their progress live at www.racetorugbyworldcup.com as well as on Race to Rugby World Cup social media channels and via the official podcast series. New Zealand-based fans can also donate NZ$3 by texting RUGBY to 2474.
The pair have aimed to make this trip, which is the second Race to Rugby World Cup (Ron having previously cycled with James Owens from London to Tokyo for Rugby World Cup 2019), the most interactive yet. The pair have been calling on fans to 'sponsor a kilometre' for NZ$16 with all proceeds going to ChildFund Rugby, who provide sport for development programmes in vulnerable communities in Asia, Oceania and Africa. Ron and Adam have also been visiting rugby communities as they undertake their journey.
Throughout their journey, Ron and Adam have participated in ChildFund Rugby partnerships in various countries, which provide opportunities for children and young people to learn new life skills so that they are better equipped to overcome challenges, inspire positive social change, and become active leaders in their communities. More than half of all ChildFund Rugby participants at all levels are female and the ChildFund Rugby environment is built to challenge negative gender stereotypes and to create positive male and female role models. All funds raised for the tournament's Principal Charity, including those by the Race to Rugby World Cup pair, will go to rugby for development programmes in New Zealand and Oceania.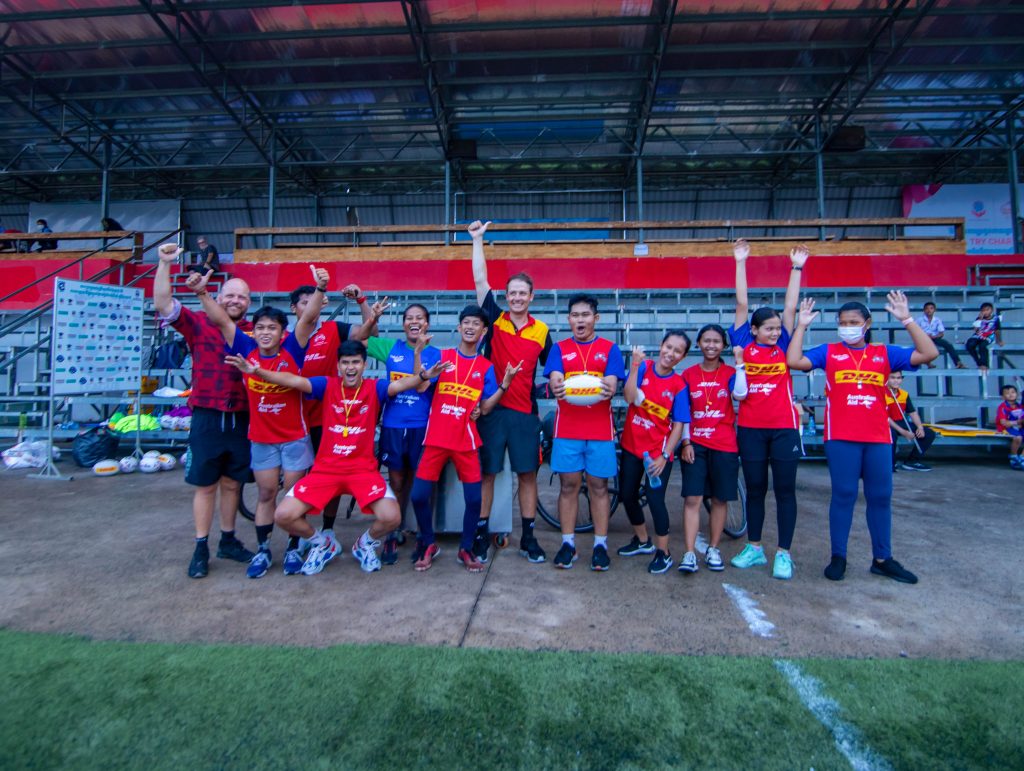 26 April 2022, day 44: Ron and Adam met with ChildFund Rugby's partner, the Cambodia Federation of Rugby's Coaches and Players – in an event hosted by DHL Express in Phnom Penh, Cambodia
Getting to the start line in Tokyo in March was an extra special moment following COVID-19 related complications that impacted their planning. The specially engraved whistle from World Rugby was presented to Ron and Adam by Japan rugby internationals Ai Hirayama and Reiko Taniguchi at Ajinomoto Stadium. Some 16,500km and 209 days later, Ron and Adam will hand it to the referee for the opening match of Rugby World Cup at the iconic Eden Park on 8 October.
Rutland said: "It's been the most incredible, and also the most challenging of expeditions imaginable. Just getting to the start line in Tokyo in March, with all the ever-changing Covid restrictions in place in the region, was a feat in itself, and for the first few months of the journey was a constant concern. But as we've progressed, and the world returns to a more normal way of life, we've been able to focus on our pedaling, the more 'ordinary' ups and downs of spending 40 to 50 hours a week in the saddle, and most importantly our fundraising efforts for ChildFund Rugby."
"We've been overwhelmed by the goodness of the human spirit and the generosity and kindness of people we've met and engaged with on every step of the way. With the end in sight now, Adam and I both just buzzing with excitement to reach New Zealand and enjoy what is going to be the most exciting Rugby World Cup imaginable, in one of my favourite countries in the world!"
ChildFund Sport for Development Director Chris Mastaglio said: "ChildFund Rugby is grateful for Ron and Adam's commitment to support our partnership ahead of what is set to be an amazing celebration of sport for the Rugby World Cup in New Zealand. Their incredible feat to cycle from Tokyo to Auckland for the tournament will support even more girls and women to play, learn, and lead through rugby, and to build critical skills that will support safe and peaceful communities for everyone."
DHL Express Head of Global Sponsorship Elliott Santon said: "We are proud to be supporting and partnering once again with Ron and Adam for their inspiring Race to RWC. DHL has had a longstanding association with rugby across the globe and are an official partner to both ChildFund Rugby and Rugby World Cup. We are passionate about our partnership with ChildFund which leverages rugby as a platform to improve the lives of many thousands of children."
World Rugby Chief Executive Alan Gilpin added: "We are proud to support Ron and Adam on their epic adventure. Having participated in the opening leg of the last Race to Rugby World Cup, I know what an incredible person Ron is. His passion for adventure is not simply about turning the pedals, he is also passionate about sport for good and played an enormous role in showcasing the leading, transformative work of ChildFund, who we are proud to be partnering with for Rugby World Cup."
Fans wishing to attend the 15s rugby event of the year can book their tickets for Rugby World Cup online to avoid missing out on the chance to be part of Rugby World Cup history. As part of the ticket purchase process online, fans can also opt to donate to ChildFund Rugby.
Media Contact:
If you are interested in interviewing Ron and Adam until 14 November when they will be in New Zealand (or specifically during their cycling journey from Invercargill to Auckland via Whangarei between 12 September to 8 October), please contact:
Carolyn Brooke, ChildFund New Zealand Engagement Manager, 0272859978, carolyn@childfund.org.nz
For more information on Race to Rugby World Cup, visit www.racetorugbyworldcup.com
For footage of Race to Rugby World Cup, visit (or request from media contact above), www.youtube.com/channel/UCeiT0ESDPjjImDPfEPL4Nlw/featured