This year, in an incredible show of solidarity and generosity, the global rugby community has pledged its support to ChildFund Pass It Back.
This will enable ChildFund to expand the program to more children, in more countries. It means we can reach new and marginalised players – girls, children from disadvantaged communities, and young people living in remote, rural areas.
As a result, more young people in Asia will have the skills they need to overcome challenges, inspire positive social change and 'pass it back' to their communities.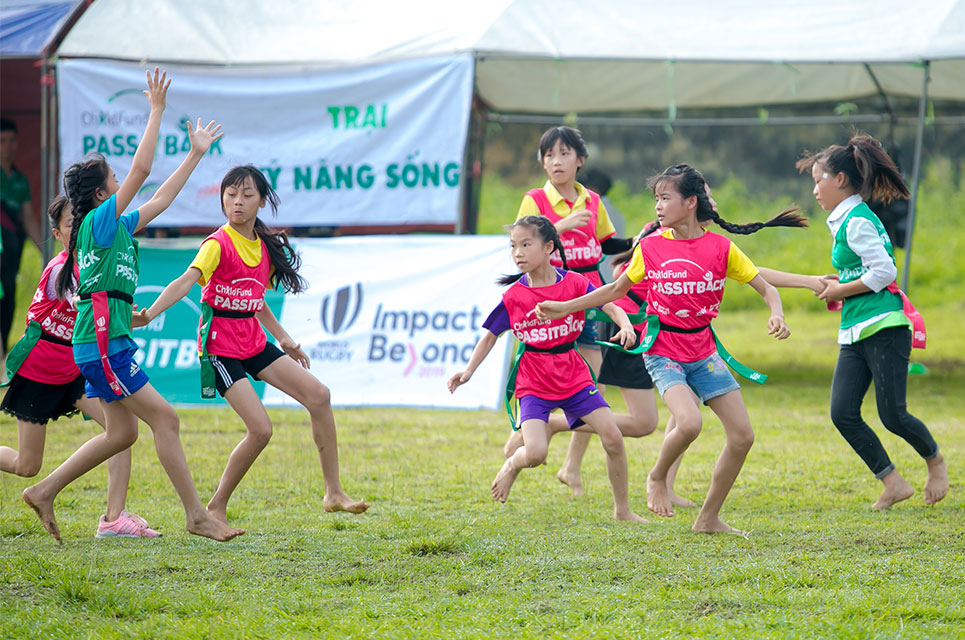 ChildFund Pass It Back is an integral part of World Rugby's Impact Beyond 2019 program, which aims to develop the game of rugby in Asia and help build stronger communities.
Sport and poverty reduction
For organisations like ChildFund, which are focused on reducing poverty for children and families in developing communities, sport for development programs are a valuable and important tool in driving change.
Our experience has found that combining sport with structured learning is very successful in driving positive change in a range of development areas, including health, education, and social inclusion.
ChildFund Pass It Back is also giving many young people access to organised sport for the first time. This upholds their right to play as acknowledged in the United Nations Convention on the Rights of the Child.
Working with young people in disadvantaged communities
So how exactly does a sport for development program like ChildFund Pass It Back work in practice?
Here we explain the four key major components of our work with children and young people
Life skills
Children learn from a set of structured personal development and leadership curricula. The flexible delivery model includes four content areas: understanding gender, planning for the future, being healthy and feeling safe. This provides knowledge, skills and attitudes to keep young people safe and healthy in a changing world.
Rugby skills
Children are introduced to the game of tag rugby, a non-contact form of the game. They learn the game, join organised teams, participate in tournaments and realise their right to play in communities where there are limited organised opportunities to play sport, especially for girls. The program reinforces the values of rugby – integrity, passion, solidarity, discipline, respect – both on and off the pitch.
Safeguarding
Drawing on the UNICEF-led International Safeguards for Children in Sport and ChildFund' recent international Beyond Sport award for Safeguarding Children in Sport, systems are established to reduce risks and to ensure that children are physically and emotionally safe, and that player welfare is prioritised.
First aid
An Asia Rugby-certified first aid curriculum is taught to all coaches to ensure that every single ChildFund Pass It Back session is attended by a qualified first aider. This component increases individuals' skill sets, and can be a valuable resource in rural communities where healthcare knowledge and services are often in short supply.
Building rugby in Asia
As a child-focused development organisation, ChildFund is focused on building protective mechanisms for children and youth, to keep them safe from harm. This work now includes working with national rugby federations in Asia to help them improve their child safeguarding practices, in line with the International Safeguards for Children in Sport. We also support national governing bodies to improve their gender inclusion practices.