"I now believe that nothing is impossible." Coach Bui Thanh Huyen said shortly after being named one of the 2021 winners of the prestigious Women of the Future Awards Southeast Asia. "It is critical for our society to have more women in leadership roles. When women have equal access to spaces where decisions are being made, it will benefit everyone because the decisions being made consider the welfare of both women and men, girls and boys."
Held last October, The Women of the Future Awards covers a variety of sectors, recognising emerging leaders from the region who are unafraid to challenge stereotypes, break boundaries, and drive positive change with courage, hard work, and determination. Huyen was one of those recognised for her work as a rugby and life skills Coach, a contact rugby player, a role model, an inspiring leader, and a change enabler from Vietnam.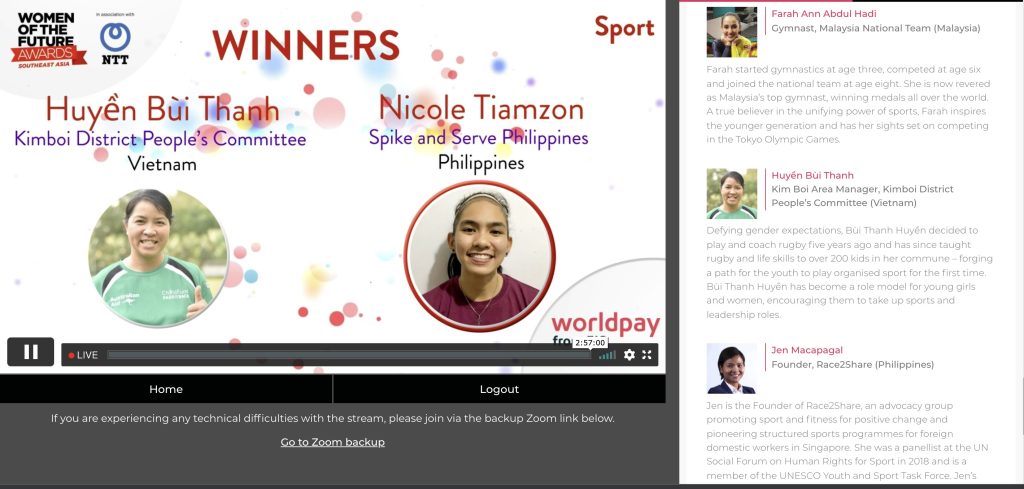 Huyen announced one of the two winners of the 2021 Women of the Future Awards South East Asia
Huyen was born and raised in a mountainous province in Northern Vietnam, where rugby was an entirely unheard-of sport and women and girls are not encouraged to take part in either sport or social activities. A farmer, a wife, and a mother who used to spend most of her time either at home or in the rice field, Huyen started her rugby and life skills coaching career in 2015. At that time, no one in her community had ever seen an egg-shaped ball, let alone know how to play it.
"As I joined Pass it Back program and took part in a variety of Coach Trainings, I learned so many things I had not known before. Aside from learning a new sport (which is a great and fun one!), I also learned life skills that are useful for me both on and off the pitch. The more I dived deeper into the Pass It Back curricula, including Understanding Gender, Planning for the Future, Being Healthy, and Feeling Safe, the more I was convinced that the understanding and knowledge they provide are those that are essential and much needed for children and young people in my community. I wanted so much to pass back to the younger generations all those great things that I had learned," Huyen shared.
Huyen added that what she loves about being a Coach is she can contribute to bringing children in the community, especially girls, the opportunities to play sport and learn valuable life skills a safe and fun environment.
"Where I come from, girls do not have the same opportunities as boys when it comes to playing outside because they are expected to stay home to help their parents with house chores. I wanted to change that and this is what that fuels my energy to try harder each day."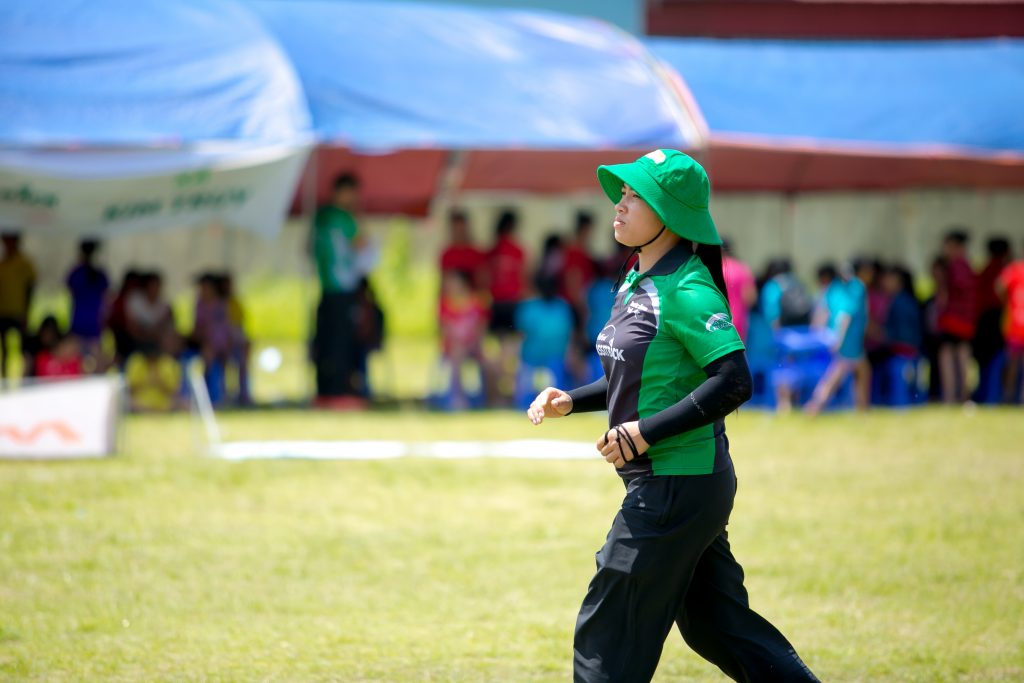 Huyen officiating at a Pass It Back competition
Huyen said that in the place where she was born and grew up in, aside from not having equal opportunities to play, girls are also not expected to get higher education. She herself had to give up her team to study further after finishing high school because her family couldn't afford it.
"In the Pass It Back program, male and female participants have equal rights and opportunities. Thus, I've learned that women can do whatever they want and be as good as men (sometimes even better), regardless of what the society dictates. They can play rugby. They can coach. They can be leaders. I want to show that to people in my community, who don't believe in those things. I want them to change the outdated mindset they've been holding about girls and women." 
Through the program, Huyen also saw the potential of young girls in sports when given the right opportunities. She recalled the time when one of the girls teams she coached called "The Blazing Sun" defeated their male peers three times in a row. 
"It all started with the two teams arguing over who could take the pitch for their training and they decided to figure it out by playing a game together. The boys lost and they thought that the girls "were just lucky,"so they asked for a rematch, only to lose again. Then they played against each other one more time a few weeks after that and the girls made their triple victory on that day! The boys eventually admitted that the girls played better than them and that they can learn from them."
Two years after becoming a Coach, Huyen was appointed to be a Coach Group Leader who managed and provided support to other Coaches in her communes. The same year, she started her role as a life skills Trainer at Coach Trainings and a Measuring Change Coordinator. Huyen also later travelled to Laos and Cambodia to support Coach Trainings in those countries. In 2020, Huyen successfully applied to become an Area Manager, overseeing the implementation of all rugby and life skills projects in Kim Boi District. In October 2021, Huyen was announced to be one of the two winners of the Women of the Future Awards South East Asia in sport category.
Huyen as a Life Skills Trainer at a Coach Training
"I now believe that nothing is impossible. Anyone can be a leader — you don't have to be a university graduate nor a man to be a leader. Becoming a Coach gives me the opportunity to continue my once incomplete education in another way and I've learned and grown so much from that.
"Leadership can be as simple as providing support and guidance to others and helping them to be better at something. We each can be a leader in our own area, as long as you are determined enough to follow whatever makes sense to you. It is critical for our society to have more women in leadership roles. When women have equal access to spaces where decisions are being made, it will benefit everyone because the decisions being made consider the welfare of both women and men, girls and boys."
When asked what she felt about becoming one of the Women of the Future, Huyen smiled. "I am not the only one. Every female Coach and player in our program is a leader of the future."
"I hope that what I have been doing will inspire and encourage other women and girls in my community to step up and raise their voice so that they can claim their rights, make their own decision and do what they want to do."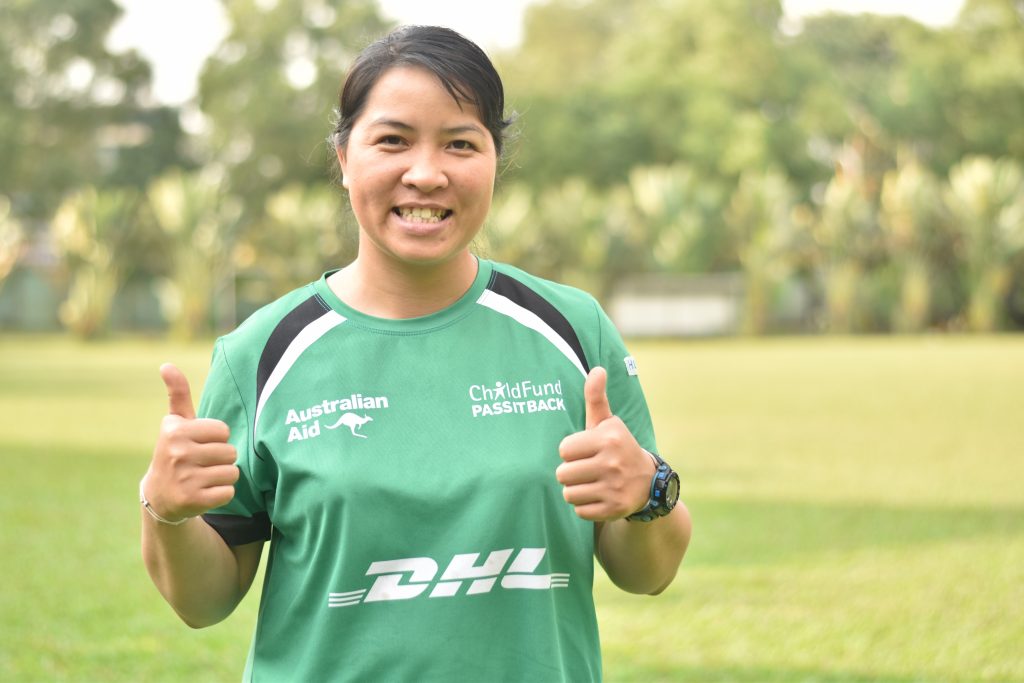 ---
Story by Linh Truong, Communications & Content Officer.