"My name is Bui Thi Lan and I'm from Vietnam. I am 29 years old and a proud mother of two. I have been a Coach for more than 3 years now and my favourite thing about being a Coach is that I can pass on what I have learnt to my players and see them learn and grow from that – that's when I'm most proud of what I'm doing."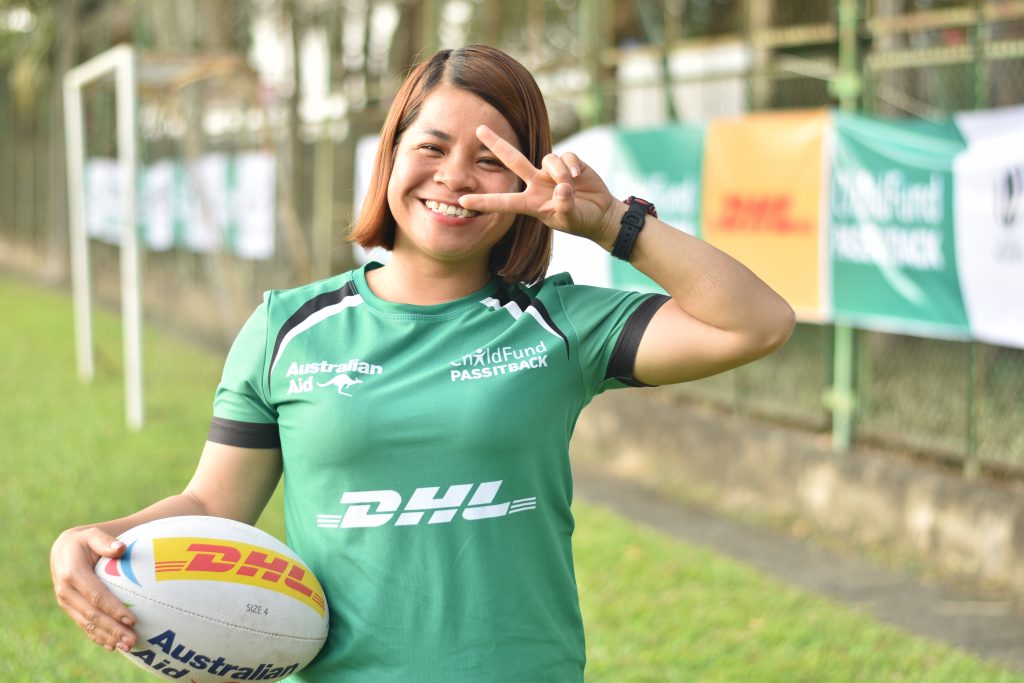 Coach Lan at a Coach training
Learn through sport
"As soon as activities were allowed to take place again, other Coaches and myself got back to training. At that time, I coached 6 Reconnect teams. The players were super excited to get back to the pitch as they had had to stay home and be separated from their friends for too long.
"Tra is in 9th grade this year and her brother is in 6th grade. Both her parents work in Hanoi (around 3 hours away) while she and her brother stay at home. Tra is a very responsible older sister who manages to make time to both go to training sessions and to take care of her brother. Her parents wanted her to quit a few times, however Tra has made very good plans, arranging her tasks so that she has time to attend training sessions. She also shares what she learns with her brother – for example she told him to keep his hands clean. As a result, her parents have become very supportive of her participating in training sessions.
"Also there is Nhu. She once told me that hand-washing is required in her school but some of her classmates failed to follow the rule. She reminded them that hand-washing is important and that is what she has learnt from joining Reconnect.
"Another player told me: 'I watched hand-washing instructions on TV, but only when I went to a training session did I actually learn how to wash my hands correctly and how many seconds the washing should last. My parents went out without wearing masks so I reminded them to wear them".
Growing on and off the pitch
"Im also proud that my players have learnt about solidarity and demonstrate it both on and off the pitch. There was a chance for some players to join a trip to Hanoi 2 months ago and I had to select 1 player from my team. I told the girls that only 1 would have the chance to go. Guess what? They discussed with each other then agreed to give the opportunity to one player on the team. Without arguing over who should go, they nominated that player and told me it didn't matter who would go as long as the selected player came back and shared with the team about her experiences. This makes me really happy. Solidarity is especially important during this time of the COVID-19 outbreak. This rugby value keeps us together to get through this difficult period.
"We teach players to respect each other and respect different viewpoints. Van, from Cuoi Ha, is another player that impresses me when it comes to that. She always shows support to other players in the team. Once during the session, the players were laughing at a team member who gave a different answer to the others. Van spoke up and said 'Nothing's worth laughing at here. Everyone has their own opinion and we should respect that.' That was amazing of her!
"I cannot imagine what could make me happier than seeing my players taking on the values and skills they learn on the pitch and growing from that."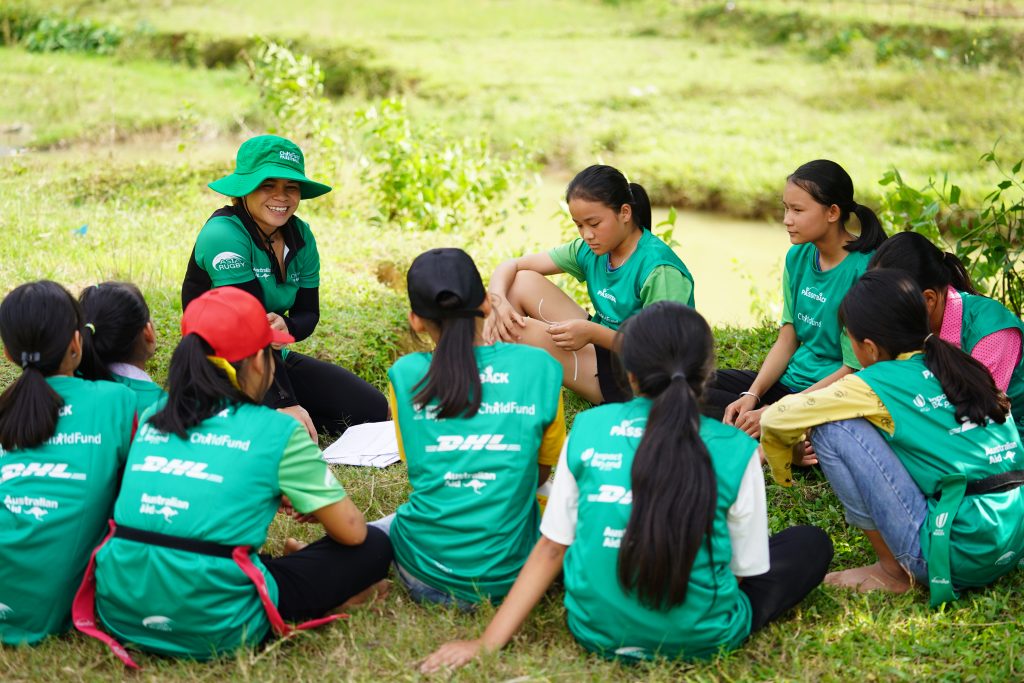 Coach Lan and her players during a life skills discussion at the end of a training
Sport changed my life
"I found my role of delivering Reconnect to children during this time something useful, but I didn't expect many adults in my community would fully understand it, but they did.
"Some parents in the villages came to see me and told me that they appreciate what I am doing – sharing knowledge with my players. They consider it's a good thing to help players learn about ways to protect themselves from COVID-19 – they even said that it would be even better if there were more people doing the same as I do. It's a great motivation to hear such things!
"My players told me they wanted to become a Coach like me so that they could teach other children good things too.
"I'm not going to lie, I am happy and I am proud of myself! I used to have low self-esteem because I only finished middle school. I was born in a family with 6 sisters. As my parents struggled to make ends meet, I quit school after completing 9th grade. I could never imagine that one day I can teach other people and be a role model for younger players. Since my participation, I have experienced significant changes. I am much more self-confident. Before, when people mentioned about education and certificates, I would feel terribly embarrassed about my background, but now I am more confident because although I didn't complete my education, I have learnt other life skills that are important for everyone and I have passed them on to younger people in my community!"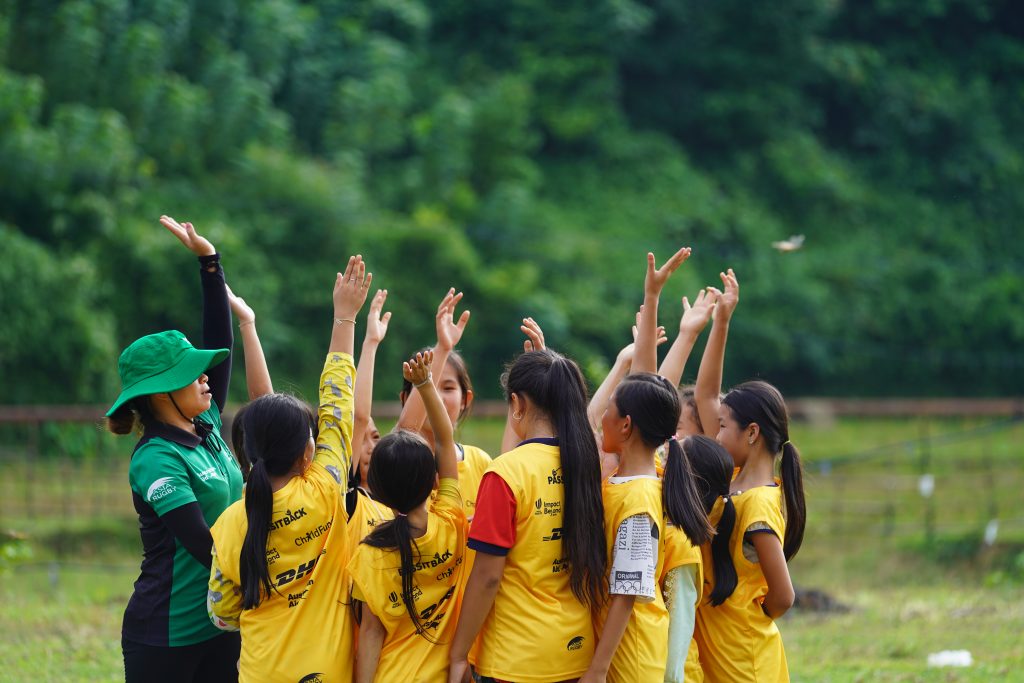 *With special thanks to the donors who supported us in making this possible: DHL, Australian Government Department of Foreign Affairs and Trade, New Zealand Ministry of Foreign Affairs and Trade, Laureus Sport for Good.
---
Story by Linh Truong, Communications & Content Officer.