Race to RWC cyclists Ron Rutland and James Owens deliver the official match whistle to RWC referee Nigel Owens in Tokyo today.
DHL, the tournament's Official Logistics Partner, has supported both cyclists over 20,000km to deliver the match whistle on time in Japan.
Their epic journey has raised over €75,000 for ChildFund Pass It Back to support children in disadvantaged communities in Asia.
Tokyo, Japan, 19 September 2019: Cyclists Ron Rutland and James Owens have finally completed their remarkable quest of cycling over 20,000km through 27 countries from London to Tokyo, in a bid to deliver the official whistle for the opening match of Rugby World Cup 2019 played between Japan and Russia.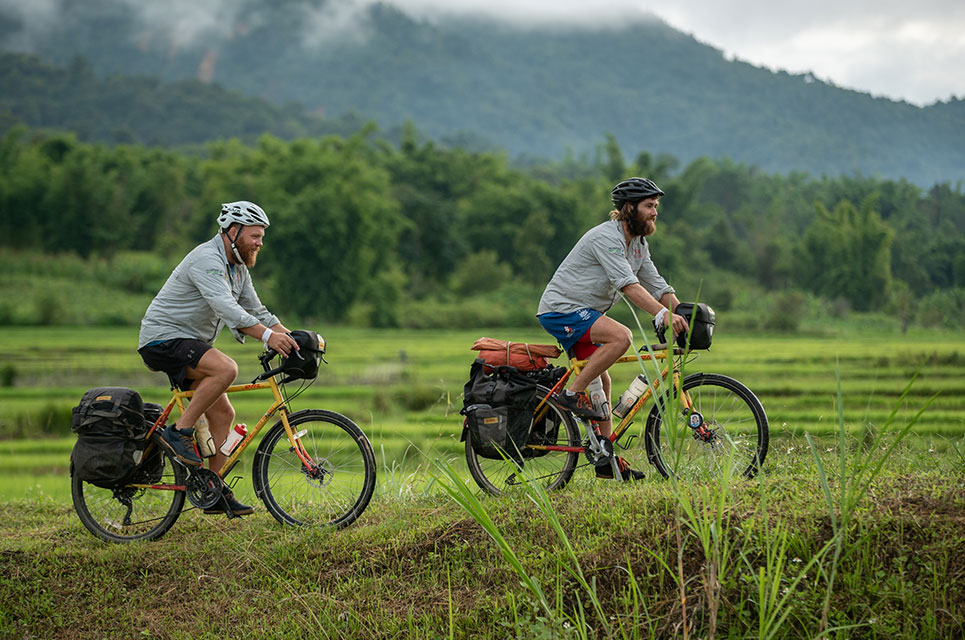 During their 231 day journey through Europe and Asia, Ron Rutland and ChildFund Ambassador James Owens travelled through Laos to visit communities where ChildFund Pass It Back is being implemented.
Ron and James began the 'Race to RWC' on February 2, departing Twickenham Stadium, London, and have finally arrived in Osaka, Japan on September 12. Their seven-month journey has seen them battle all the elements, as well as live in a vast array of accommodations ranging from their tent to the homes of locals, kindly offering them a place to stay.
The expedition, backed by DHL, the Official Logistics Partner of Rugby World Cup 2019, supports ChildFund, World Rugby's principal charity partner, and their unique rugby for development program ChildFund Pass It Back.
This program gives children in Asia, primarily those living in disadvantaged communities, the opportunity to take part in organised sport, often for the first time, and learn vital life skills through rugby.
Following completion of today's 'Captain's Run' by the Japanese National team, Ron and James cycled into Tokyo Stadium and officially handed over the match whistle to referee Nigel Owens, who has the honor of presiding the opening match at Rugby World Cup 2019 tomorrow.
DHL Ambassadors Sir John Kirwan and Shotaro Onishi cycled with the two on the last day of their journey, and joined Fiona Taag, Head of Global Sponsorship DHL Express; Alan Gilpin, Tournament Director, Rugby World Cup 2019 and Adrian Graham, COO ChildFund Australia, as the handover ceremony was conducted.
Taketo Yamakawa, President, DHL Express Japan, said, "Congratulations to Ron and James for completing their epic journey and a very warm welcome to Japan! By cycling more than 20,000km from London to deliver the official whistle in Tokyo, they truly embody the DHL spirit of 'Can Do' and 'Passion'. Their fundraising efforts for ChildFund Pass It Back will go a long way to empowering children with a brighter future."
Alan Gilpin, Tournament Director, Rugby World Cup 2019 added: "Congratulations to Ron and James on an extraordinary achievement. Not only have they achieved a remarkable personal feat, spreading the rugby message around the world, but they have made a transformational difference to thousands of disadvantaged children in Asia with their remarkable ChildFund Pass It Back fundraising efforts."
CEO of ChildFund Nigel Spence says: "We are immensely proud of Ron and James, and their dedication to helping children living in some of Asia's most disadvantaged communities. Having clocked over 20,000km on their bikes, and crossed the borders of more than 20 countries, they must have reached the finishing line in Tokyo with a sense of real accomplishment."
"Their epic journey may now be over, but hundreds of young people now and in the future will be given the opportunity to play, learn and grow. Thank you to Ron and James from all at ChildFund; we are hugely appreciative of your support," Nigel added.
For more information, visit https://www.dhl-in-motion.com/en/rugby/race-to-rwc/