The three communes of Ngo Luong, Ngoi Hoa, and Trung Hoa are situated in one of northern Vietnam's most remote regions. Yet despite their inaccessibility, rugby has made its way to the local playing fields.
Separated from other parts of Hoa Binh Province by the Da River Hydroelectric Dam, most children and families of Ngo Luong, Ngoi Hoa, and Trung Hoa live in small, rural villages only accessible over rough roads, rivers, and mountain ranges.
For those resident on the many islands that dot the local lakes and waterways, life can be even more isolated.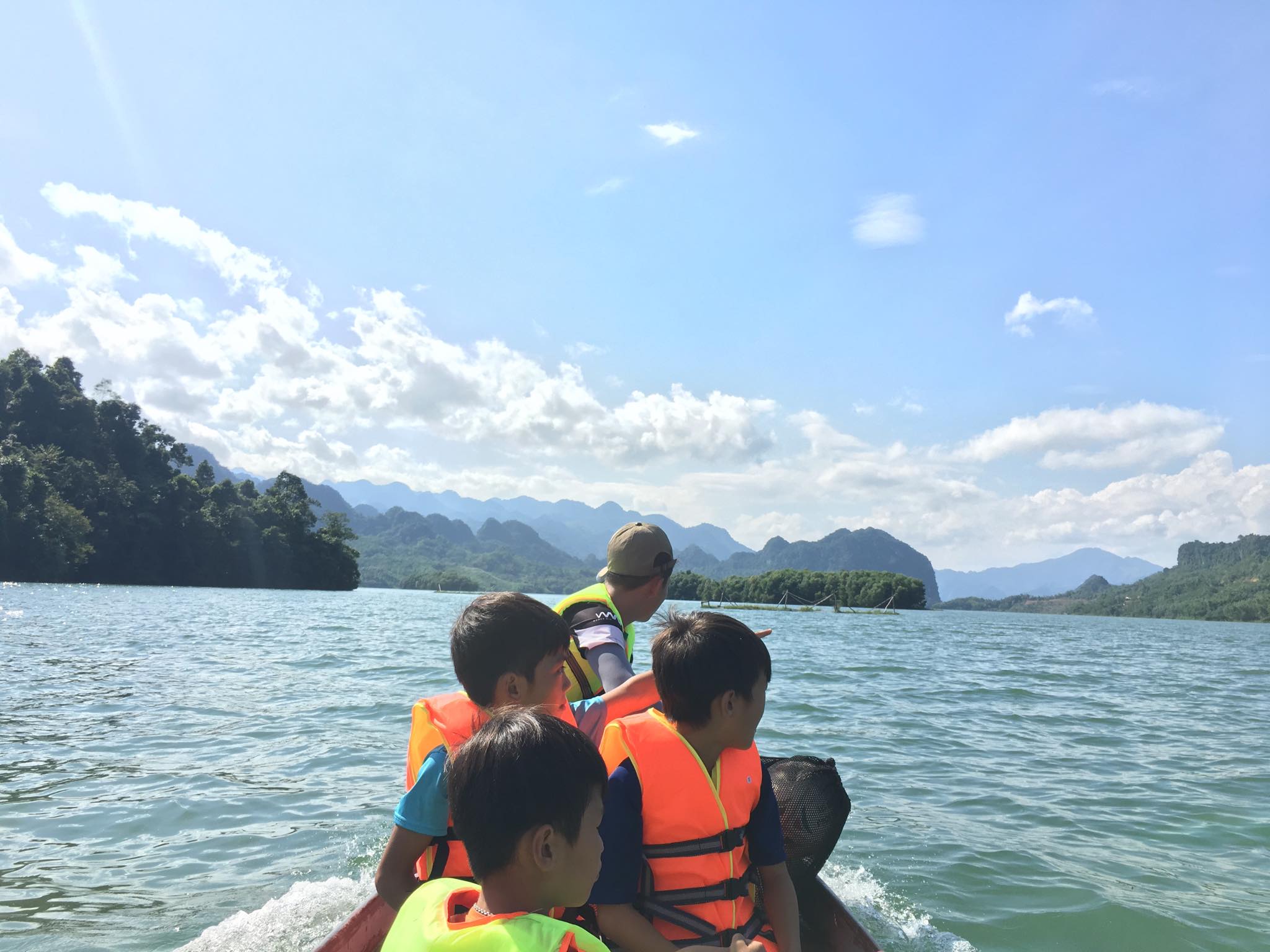 "We have to cross the Da River to pick up players and bring water and equipment to the pitch in the middle of a hill on one of the islands. This is tiring work," says Coach Thang.
While Vietnam is considered one of the world's development success stories, not everyone has benefitted from improvements to living standards.
This is particularly true for ethnic communities, who are disproportionately impacted by poverty.
Access to opportunity in remote areas
For the 2,700 households in this region, access to basic services – such as hospitals and schools – is limited and families rely on what their farms can produce to survive.
To access secondary education, the only option for children aged 10-15 years is a communal boarding school in Ngo Luong.
Coach Mo says: "There have been few interventions from outside to provide learning opportunities for children here.
"ChildFund is the only non-government organisation that has come to work with us, and ChildFund Pass It Back is the very first program to provide children here with life skills learning."
Away from their homes and families, boarding students had little to do once classes were finished for the day. Coach Mo says: "Because of this, many male students would participate in dangerous activities such as climbing and chasing each other over the roofs of buildings."
But that has all changed. Coach Mo says: "Now we have ChildFund Pass It Back sessions in the afternoons, which offers young people the chance to play rugby, learn life skills, and make new friends.
"Players really enjoy the training sessions; they often come to training 30 minutes earlier and ask the coaches to deliver more sessions per week!"
Enrolment rates are a testament to the power of sport: since the program was launched, over 90% of students in the boarding school have registered.
Coaching in remote areas
For the ChildFund Pass It Back coaches working here, the natural terrain presents many challenges. Coach Thang says: "Delivering training sessions to our players has been an up and down emotional experience for myself and Vinh, my co-coach.
"We have to cross the Da River to pick up players and bring water and equipment to the pitch in the middle of a hill on one of the islands. This is tiring work."
But despite the logistical difficulties, coaches in remote areas strive to maintain their training schedules and bring their players to competitions, so that the right to learn and play is upheld for all young people.
Attending a local tournament was just as difficult with players having to travel by foot, then boat and truck. Coach Thang says: "We had to spend an hour on a boat to cross the river, then another hour on a truck to reach the pitch.
How rugby builds connection and inclusion
Beside the joy of receiving medals, taking part in the competition marked their first time that players from remote areas had the opportunity to be included in a big event. Not only did this strengthen their relationship with team mates, but it gave them the chance to build new friendships with players from further afield.
Most importantly, one player remarked that the most special thing about the experience was the 'feeling of belonging'. Regardless of who they were, or how difficult it was to reach the tournament, players felt included and valued, a key building black for building resilience among children and youth.
Coach Thang adds: "As the competition was the very first time that some of my players had travelled off their island, they were shy and nervous. After winning the final game, they ran to us and gave us hugs.
"It was an emotional moment as I realised that our victory wasn't just winning the game at the competition but, also a win for all the effort we had made to take part."
Help ChildFund Pass It Back make a difference
At ChildFund Pass it Back we are passionate about every child's right to play, learn and grow. We use rugby to help disadvantaged children develop sport, leadership and life skills in a safe and structured way.
If you would like to help us make a difference in the lives of children living in rural Vietnam, donate today.