Race to Rugby World Cup 2019™, Japan, starts in London.
DHL as the tournament's Official Logistics Partner supports cyclist on extreme expedition
Journey aims to raise significant funds and awareness for children and young people in disadvantaged communities in Asia
London, February 2: Today cyclists Ron Rutland and James Owens will begin their remarkable quest: to cycle 20,093 km through 27 countries, as part of a unique initiative to give disadvantaged children in Asia the opportunity to take part in sport and learn vital life skills through rugby for development program ChildFund Pass It Back.
Setting off from Twickenham today, Ron and James will spend 231 days on the road in Europe and Asia, with DHL, official logistics partner for Rugby World Cup, providing essential support for this mammoth journey.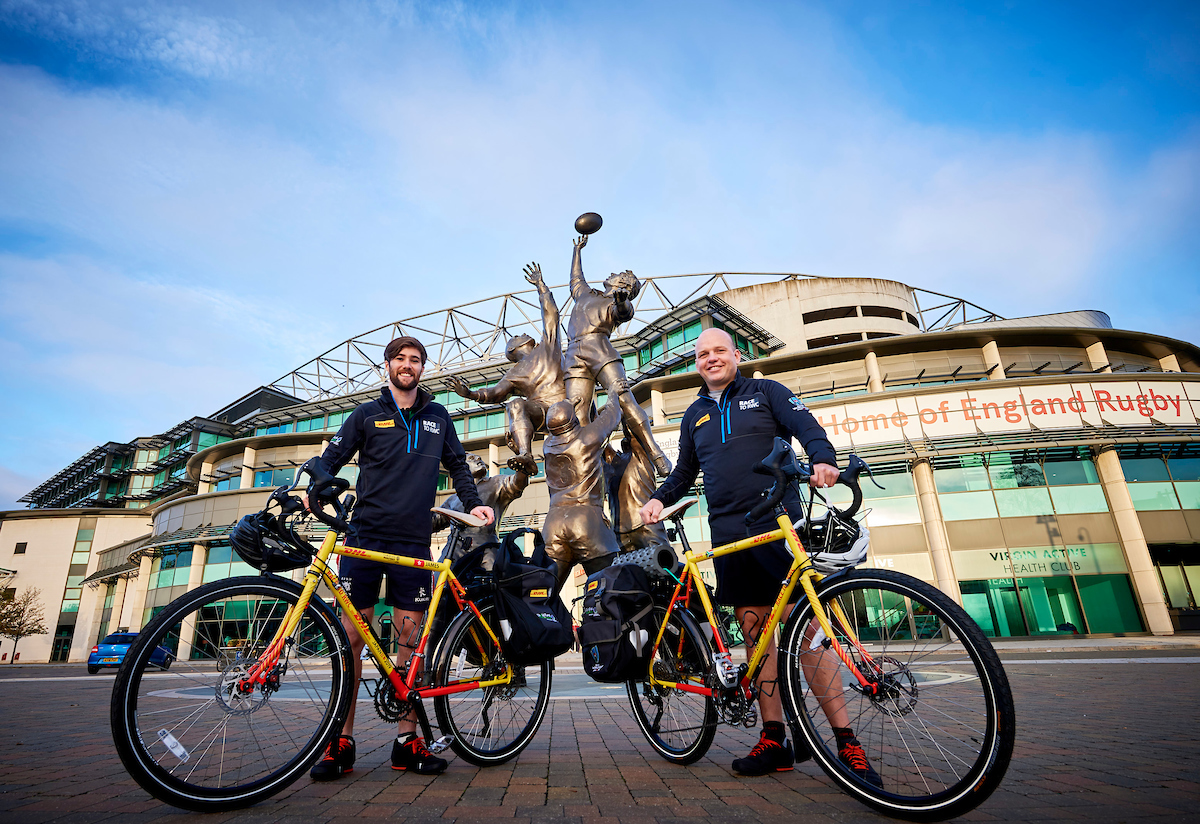 This morning Head of Rugby World Cup, Alan Gilpin will present both Ron and James with the official match whistle to the opening Rugby World Cup 2019™ match between Japan and Russia which the guys will courier from Twickenham Stadium – home of the 2015 Rugby World Cup™, all the way to Tokyo Stadium, Japan for tournament kick off on Saturday 20th September 2019. DHL will track the match whistle through each of the 26 countries allowing fans to follow this unique countdown to Rugby World Cup 2019™.
Ron Rutland, who cycled through Africa to reach the Rugby World Cup™ in England in 2015, is excited about this new adventure: "We'll have the challenge of a European winter, crossing the Himalayas (twice), the mountains of Asia to negotiate in the middle of summer, and every type of terrain and weather in between.
"And of course, the highlight of any expedition will be the people we meet. This will include Asia's newest generation of rugby players and coaches who we will meet in Vietnam and Laos as we travel through ChildFund-supported rural communities."
DHL has supported Ron's adventures from day one. As he notes, without the company's support in Africa, he'd probably have been six months late for the kick-off! DHL Express Global Head of Sponsorship Fiona Taag adds: "We are so happy to be supporting Ron and James' epic journey. We will be behind them for every kilometer and will even have some of our staff cycle alongside them on occasion."
"And while we're looking forward to tracking what they cover on their bikes, we're even more excited to see the donation tracker tick over as the global rugby community rallies together to raise much needed funds for ChildFund Pass It Back."
For James Owens, a former staff member of ChildFund, the trip has significant personal appeal. Having helped to establish the ChildFund Pass It Back program in Asia, he is keen to see the program expand to more children.
James says: "The ChildFund Pass It Back program does more than just give young people a chance to play rugby. It gives them valuable life-long skills and knowledge."
CEO of ChildFund Nigel Spence adds: "We believe that every child should have the right to play, learn and grow, and the funds raised by Ron and James will help children who face significant challenges around poverty and inequality.
"We wish these intrepid cyclists the very best on their journey, and thank them and DHL for their support and commitment to helping children in developing communities."
For more information, visit https://www.dhl-in-motion.com/en/rugby/race-to-rwc/
Media Contacts: